{ "new": "//www.teapigs.co.uk/cdn/shop/files/new_b6d56321-4d74-428a-9139-36dff7ef4f60_120x.png?v=1614298778" }
yerba mate tea
high alert
A smoky green South American herb which is thought to boost your energy.
winner!
1 star 2020 Great Taste Award

caffeine?
naturally contains caffeine
calories?
0 calories per cup

What's special about this tea?
Well, if you've ever travelled to South America, and particularly Argentina, you'll have seen yerba being drunk by pretty much everyone. Drunk to support metabolism and mental focus, our yerba mate tastes a little like a smoky green tea.
how does it taste?

A bit like a smoky green tea. Could this be the new Lapsang Souchong?
good if you're feeling

Open-minded and willing to take a risk. This is an Amazonian secret energy brew - it may smell like creosote, but it works like magic.
ingredients

Yerba mate.
nutrition

nutrition per 100ml

0 kcal
0 sugar
0 fat
trace carbohydrate

Dairy free, gluten free, suitable for vegetarians and vegans.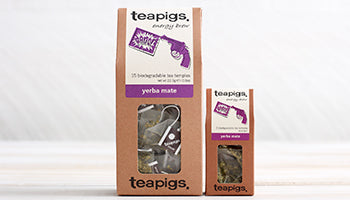 what is yerba mate tea?
It's the national drink of Argentina and a firm favourite at teapigs HQ - find out more about this wonderful blend and why you should drink it.
learn more
our packaging
tea temple
made from plant starch - pop in your council food waste
inner bag
made from recyclable soft plastic
outer carton
made from sustainable cardboard- recycle me!