{ "new": "//www.teapigs.co.uk/cdn/shop/files/new_b6d56321-4d74-428a-9139-36dff7ef4f60_120x.png?v=1614298778" }
silver tips white tea
the great white
A very light and pure tea from Fujian China - this blend is a true delicacy.

caffeine?
naturally contains caffeine
calories?
0 calories per cup

what's special about this tea?
Grown in China, this genuine white tea is made from the freshest tea buds of the season. They are plucked within two hours of sprouting, then left to lay in the sun. If your usual white tea appears green in your cup, then it's probably a green tea; this, however, is the genuine white tea article. Possibly one of our most exclusive teas - refreshing, light and aromatic.

how does it taste?

Refreshing, light and aromatic - think peaches and apricots. Very pure. We have chosen to bring you genuine white rather than green tea masquerading as white tea. If your white tea looks green in the cup, then it is green tea - watch out for fakes.
good if you're feeling

Impure of thought, word or deed. Forget the rosary and the Hail Marys - redeem yourself with a cup of this gorgeous white tea, crammed full of antioxidants.
ingredients

White tea.
nutrition

nutrition per 100ml

0 kcal
0 sugar
0 fat
trace carbohydrate

Dairy free, gluten free, suitable for vegetarians and vegans.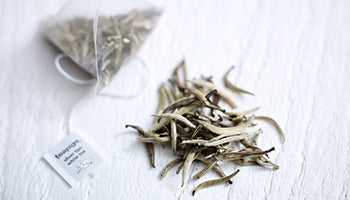 what is white tea?
It's time to talk about white tea! We've put together a few FAQ's regarding this super special tea.
learn more
our packaging
tea temple
made from plant starch - pop in your council food waste
inner bag
made from recyclable soft plastic
outer carton
made from sustainable paperboard - recycle me