{ "new": "//www.teapigs.co.uk/cdn/shop/files/new_b6d56321-4d74-428a-9139-36dff7ef4f60_120x.png?v=1614298778" }
chamomile tea
dream on
Whole chamomile flowers, so pure, so sweet nothing like a regular chamomile.
winner!
2 star 2020 Great Taste Award
caffeine?
naturally caffeine free
calories?
1 calorie per cup
What's special about this tea?
Most chamomile teas are made by crushing the flowers - not a nice thing to do. The best chamomile tea comes from brewing the whole flowers - which is exactly what we do. The chamomile flower is celebrated for its health benefits, which include calming, aiding sleep and supporting digestion.

how does it taste?

A beautiful yellow cup which gives way to a sweet, surprisingly juicy flavour of chamomile.
good if you're feeling

Unable to switch off. One cup of this will calm any incessant mind-whirring, especially if you put your feet up whilst someone else makes it for you.
ingredients

Pure, whole, chamomile flowers.
nutrition

nutrition per 100ml

1 kcal
0 sugar
0 fat
trace carbohydrate

Dairy free, gluten free, suitable for vegetarians and vegans.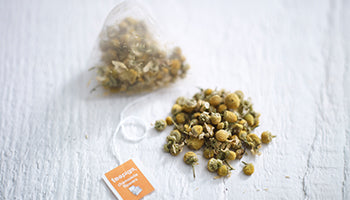 teas to help you relax
We all associate chamomile tea with unwinding, but what other teas are out there in the big wide world that could help you relax? Find out here!
learn more
our packaging
tea temple
made from plant starch - pop in your council food waste
inner bag
made from recyclable soft plastic
outer carton
made from sustainable paperboard - recycle me

loose pouch
non-recyclable so try to re-use me!