Meet our range of all-natural feel-good teas, which have been specially blended with functional ingredients that do good and taste good. Whether you're in need of a little pick-me-up, help drifting off or something to soothe the soul we've got a tea for you. Packed full of benefits, with no compromise on our usual full-on flavour – what's not to love?! 
---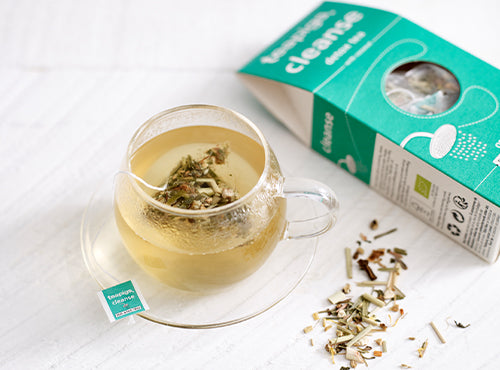 cleanse | detox tea
One of the most common requests we get is what tea helps when you're feeling blobby & bloated. Cleanse is here to hit the spot – green tea meets lemongrass, ginger, coconut &dandelion root.
Key ingredient: dandelion.
Perfect for: first thing in the morning – bright & fresh for the day!
shop cleanse
---
up beet | energy tea
Bring on a positively punchy kick start to your day! Up beet is a rich and earthy blend of hibiscus, beetroot, ginger, carrot and green tea – warms up your engine as well as your taste buds.
Key ingredient: hibiscus.
Perfect for: a daily booster.
shop up beet
---
snooze | sleepy tea
Bring on the sandman – have we got the sleepy tea for you. Snooze is a simple blend of lavender, chamomile and apple – why mess with a classic?
Key ingredient: lavender.
Perfect for: last thing at night.
shop snooze
---
calm | relaxing tea
Right, pens down, heads down – who doesn't need a little time out? Calm is the perfect little reset button –take a sip & let the stress of the day melt away…
Key ingredient: valerian.
Perfect for: when you just need a breather.
shop calm
---
happy | uplifting tea
Who doesn't love a mug full of sunshine? Happy is soft, sweet, with a little sprinkle of spice, all blended together to help bring that beautiful smile to your face. Stop it, you're blushing!
Key ingredient: lemon balm.
Perfect for: a pick-me-up, whenever, wherever!
shop happy
---
trim | metabolism tea
Keeping fit doesn't have to be a chore or involve nondescript grey powders blitzed in blenders – trim is a sweet & fruity blend of peach, rosehip, hibiscus and guarana that helps your body get ready for working on itself.
Key ingredient: guarana.
Perfect for: when it's time to get your sweat on.
shop trim